Curry on Auf weissen Stoffen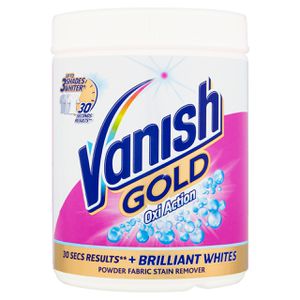 Vanish Gold For Whites Powder 940G
Vanish Gold For Whites Powder 940G
Vanish Gold Weiss Pulver
Vorbehandlung
Schritt 1:
Vermengen Sie 1/4 Dosierlöffel Pulver mit 3/4 Dosierlöffel Wasser (max. 40° C) zu einer Paste.
Schritt 2:
Reiben Sie den Fleck sanft mit der gewölbten Seite des Dosierlöffels ein.
Schritt 3:
Lassen Sie die Paste maximal 5 Minuten einwirken.
Schritt 4:
Waschen Sie anschliessend mit dem gewohnten Waschmittel und geben Sie einen Dosierlöffel Vanish hinzu.
Wichtig:
Befolgen Sie immer die Anwendungshinweise auf der Vanish-Produktverpackung. Nicht auf Wolle, Seide oder Leder anwenden. Nicht auf versiegelten oder behandelten Oberflächen anwenden – z. B. Holz, Metall etc.
Ist Ihr Fleck entfernt?
Weitere nützliche Tipps für
Haben Sie nicht die Fleckenlösung gefunden nach der Sie gesucht haben?
Related Articles
Spices such as turmeric and paprika can make curry stains very difficult to remove. For maximum speed and power pre treat with Vanish Gold Oxi Action Powder.